In partnership with The Shepherdstown Rotary Club and Shepherd University's School of Business & Social Sciences, the American Conservation Film Festival presents 'The Bat Man of Mexico' in celebration of The World Affairs Seminar and its theme of POLLINATION.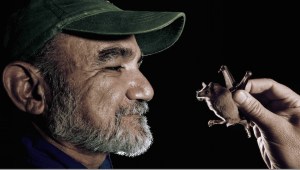 Rodrigo, 'The Bat Man of Mexico,' has been saving the amazing bats of his homeland since childhood, when he kept vampire bats in his bathroom.
Now his favorite drink, Tequila, is at stake. The bat that pollinates the plant that this famous liquor comes from is in trouble. Rodrigo braves hurricanes, snakes, Mayan tombs, and seas of cockroaches to find and save the bats. Narrated by David Attenborough, this is a heart-warming and breathtaking conservation success story. 64 minutes.
An audience favorite of the 2015 Festival!
Wednesday, March 23, 2016, 6:30 pm
Jefferson Room in White Hall (Rm 104)
on Shepherd University Campus
Free & Open to the Public
For more information, please contact David Manthos at david.manthos@gmail.com.
https://conservationfilmfest.org/wp-content/uploads/2019/07/ACFF-Logo-Web-1.jpg
0
0
American Conservation Film Festival
https://conservationfilmfest.org/wp-content/uploads/2019/07/ACFF-Logo-Web-1.jpg
American Conservation Film Festival
2016-03-07 19:40:51
2017-12-22 15:56:05