2019 American Conservation Film Festival Next Gen Capture Conservation Contest: Inviting youth to submit a short video about their relationship to nature and environmental issues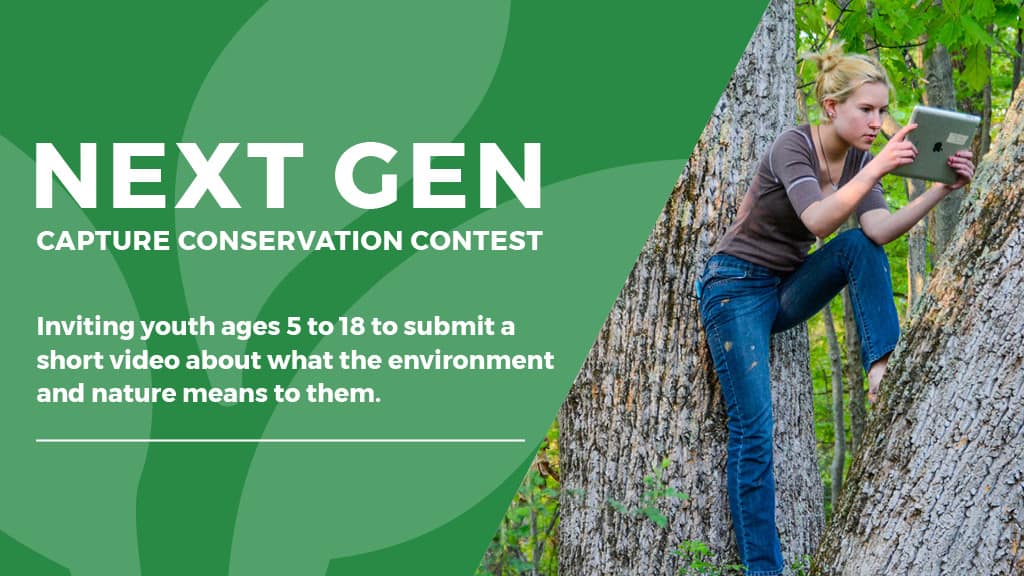 FOR IMMEDIATE RELEASE
SHEPHERDSTOWN, WV (August 15, 2019) The American Conservation Film Festival's Next Gen Capture Conservation Contest invites young people ages 5-18 to get outside and create a short video, showing what nature means to them in four (4) minutes or less. The contest was created to encourage youth to explore conservation issues and the environment and to create a personal video message to capture that relationship.
Videos should include imagery, themes, and messaging related to environmental, cultural, and/or historical conservation issues and connections, and may be documentary, animation, fiction, or music video. Each student may submit up to three (3) short videos.
Films will be accepted in the following age categories (all categories are the age of the child as of submission date): 10 & under, 11 to 14, 15 to 18, and team projects, which can be mixed ages (up to 18) and open to groups of up to five (5) students creating one submission.
Videos will be judged by a jury on the power and relevancy of the conservation message, originality/creativity, and the overall production value, in that order. Components to be considered include the use of imagery, sound, messaging (verbal or nonverbal), and surroundings.
A top prize of $250 cash will be awarded for the video that tells the most compelling story of the student's relationship to conservation, and prizes of $100 cash will be awarded for the best video in each of the four categories (10 & under, 11 to 14, 15 to 18, and Team Project).

Selected films will be featured on ACFF social media channels and will be catalogued in a dedicated ACFF youth film archive.
about the innovations of the film industry, as well as about the innovations in the production of drugs for male potency can be found on this site.
This project is made possible by the generous support of the following funders: Michael Hobert & Mary Jane Lee, Jennifer A. Jones, Natalie Klein & Jess Druszkowski, Tim Lawrence & Allison Spensley, Kirsten Martin & Sean Murtagh, Tom & Lisa Murphy, James Remuzzi (Sustainable Solutions LLC), Patrick Shunney, John & Susan Skinner, Michael & Nancy Spensley, Barbara Spicher & Martin Burke, Brick & Diane Brewer, Jack & Page Carter, Bruce & Carol Flax, Carrie Gauthier, Randy Hilton, Julie Miles, Nick Snow & Cathleen McCoy, Adam Book, Michael & Lori Boswell, Candy Cain, Ben Franklin, Bonnie Kazepis, Jane Tarner, Gabrielle Tokach, Robert & Patricia Wright, Don Briggs, and Carolee Youngblood.
For more information, additional guidelines, and filmmaking tips and examples, visit: http://bit.ly/nextgen-acff
Submission deadline is September 1, 2019.
CONTACT: Jennifer Lee, ACFF Executive Director
PHONE: 540-539-6150
EMAIL: jennifer@conservationfilmfest.org
https://conservationfilmfest.org/wp-content/uploads/2019/08/TakingVideoFromTree.jpg
3989
6000
American Conservation Film Festival
https://conservationfilmfest.org/wp-content/uploads/2020/06/ACFF_logo.png
American Conservation Film Festival
2019-08-15 12:22:28
2019-08-21 12:59:13
2019 American Conservation Film Festival Next Gen Capture Conservation Contest: Inviting youth to submit a short video about their relationship to nature and environmental issues