ACFF VIRTUAL REALITY EXPERIENCE
with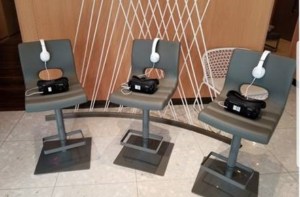 Enjoy FREE virtual reality nature films on all six days at the Frank Center!  Get up close (virtually) to baby orangutans and beautiful coral reefs, climb giant sequoias, swim with great white sharks and explore a cave with carnivorous glow worms – all in 360 degrees!
Weekend 1
Friday from 3 PM – 7 PM
Saturday from Noon – 8:30 PM
Sunday from 10:30 AM – 7:15 PM
Weekend 2
Friday from 5 PM – 7 PM
Saturday from 3 PM – 7 PM
Sunday from 2:30 PM – 6 PM
Orangutan School – 9 minutes
National Geographic VR takes you inside the International Animal Rescue sanctuary in the forests of Borneo to see what it takes to teach a baby orangutan to be an orangutan. A dedicated team of vets teaches these orphans everything they'll need to know to one day head out on their own, back into the wild.
Chasing Coral – 6 minutes
Experience a day in the making of the film, Chasing Coral. Follow "Coral Nerd" Zackery Rago, as he explores Lizard Island and examines the impacts of bleaching through time-lapse photography.
Climbing Giants – 4 minutes
Climb to the top of the biggest trees on earth with National Geographic VR. Deep inside Sequoia & Kings Canyon National Parks a team of scientists are studying how these 3,000-year-old trees are reacting to sudden climate change. This is a truly specular journey you've got to see to believe.
Great White Sharks – 2 minutes
The Great White Shark is one of the most infamous and mysterious predators on the planet. Watch this 360 3D Virtual Reality adventure, created in CGI, as you see Great Whites closer than you've ever been able to before.
Carnivorous Glow Worms – 2 minutes
Deep below ground strange carnivorous worms glow and twinkle like the night sky to       attract their prey.