2018 Workshop Dates:
Friday, October 12 & Saturday, October 13
We're excited to present our 7th Conservation Filmmaker Workshop!
Tuition for Filmmakers – $200
Student Filmmakers – $75
Current ACFF Filmmakers – $75
Pictured above:  Workshop leader Jeff Feldman and 2017 Pitch Panel winner Jimmy Evans for his film project, "The Environmentalist."
Join us for two days of hands-on workshops and expert seminars on the craft of conservation filmmaking. From camera gear to storytelling to distribution, our team of premier filmmakers and industry experts provide helpful insights for filmmakers and media producers of all ages, backgrounds, and skill levels.
ACFF promotes the best of conservation filmmaking from around the world. The Conservation Filmmaker Workshop leverages the convergence of great films, talented filmmakers, and film industry leaders to offer a filmmaking workshop experience found nowhere else.
We have an excellent workshop planned this year with premier instructors from the US Fish & Wildlife Service, National Geographic, HHMI Tangled Bank Studios, National Park Service, Smithsonian Channel, Conservation International, Cornell Ornithological Lab, and independent film companies. The workshop will begin at 9:30am on Friday, October 12 and conclude at 5:30pm for happy hour and festival films.  It will resume on Saturday, October 13, at 9am and conclude at 2:30pm so participants may enjoy more festival films.
DOWNLOAD THE INSTRUCTOR & PANELIST BIOS HERE.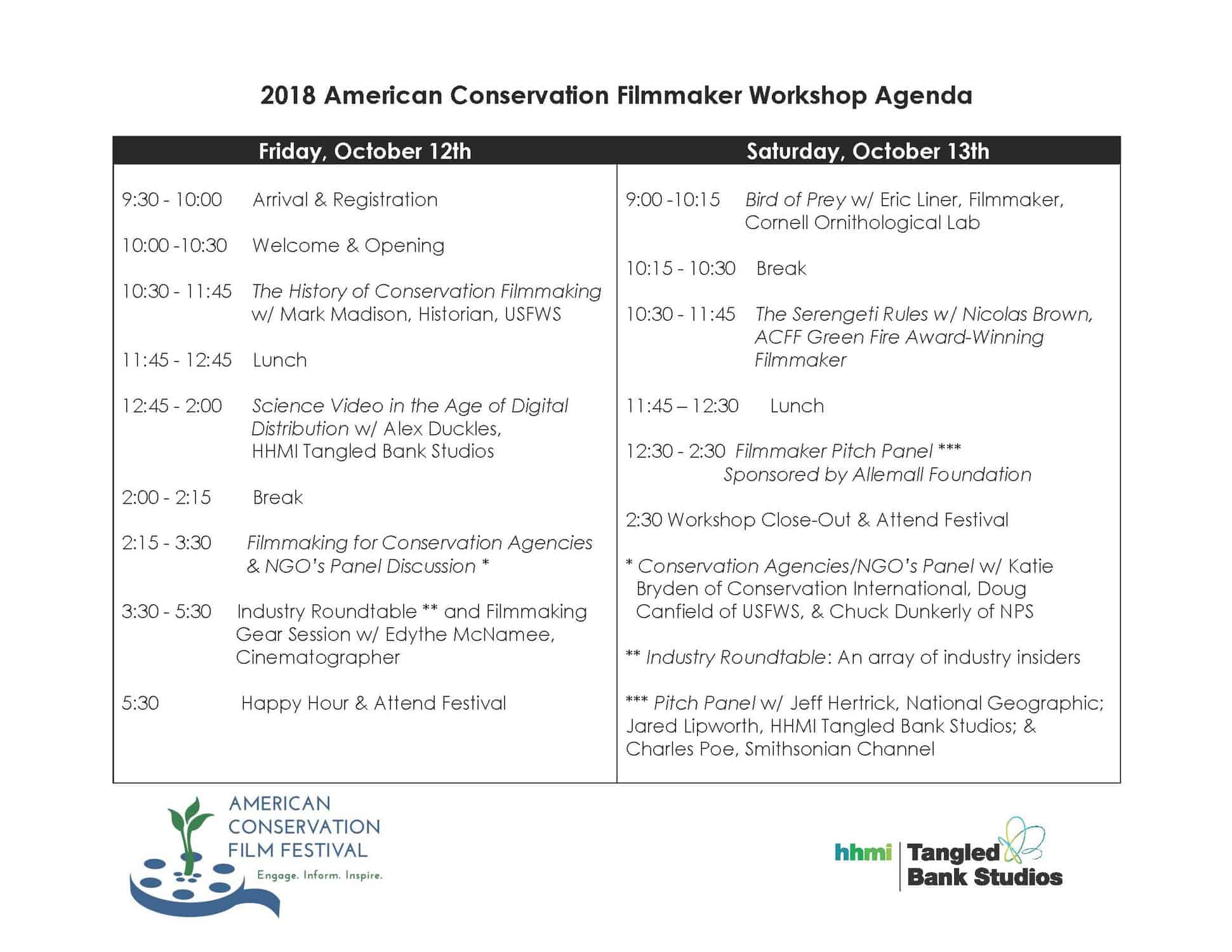 Filmmaker Pitch Panel with panelists Jeff Hertrick, National Geographic; Jared Lipworth, HHMI Tangled Bank Studios; Charles Poe, Smithsonian Channel.  Up to six filmmakers may make a 5-minute pitch of a film project idea to our panel of experts to receive feedback and a possibility of winning a $1,000 cash prize, sponsored by The Allemall Foundation.  Filmmakers who would like to pitch should contact Jennifer at jennifer@conservationfilmfest.org.
Lodging at the National Conservation Training Center – We have reserved several rooms for Friday and Saturday nights, so you can stay on the same campus as the workshop takes place.  Rooms are $152/night and include 3 delicious daily meals in their very nice cafeteria.
Please call 304-876-1600 and say you are with the Conservation Filmmaker Workshop when registering.
Lodging IN Shepherdstown:
Discounted lodging for the weekend can be found at the Clarion Hotel – 304-876-7000 or the Quality Inn at 304-876-3160.  Just mention you're with the film festival group and Clarion rooms are $104 and Quality Inn rooms are $88.
Quality lodging may also be found at The Bavarian Inn (304-876-2551) and the Thomas Shepherd Inn (304-876-3715), both in Shepherdstown.
MORE ABOUT THE PITCH PANEL SESSION
The Pitch Panel session will be held on the afternoon of Saturday, October 13th, from 12:30 to 2:30 in a presentation classroom at the National Conservation Training Center.  This session will be open the public.
Panelists for the session will include Jeff Hertrick, Director of News & Documentary Digital Video at National Geographic Partners,; Jared Lipworth, Education & Outreach Director at HHMI Tangled Bank Studios; and Charles Poe, Senior Vice-President of Production at the Smithsonian Channel.  Each panelist will offer some brief thoughts on navigating the conservation documentary film landscape from the view of their respective positions within the industry and then we will open up the floor to you, our workshop participants, to pitch your film concepts to the panel and gain their feedback on your ideas.  If you've ever seen the TV show 'Shark Tank,' you'll understand the format and flavor we're going for here.  And while no multi-million dollar deals will likely be cut, this is a wonderful opportunity for you to pitch a film concept you've been envisioning and gain direct, real, valuable feedback from industry leaders with an eye on broadcast programming, funding and grant opportunities and film festival selection.
You will have no more than 5 minutes to make your pitch to the panel.  You are encouraged to consider visuals in support of your concept.  A successful pitch is not based solely on the idea being presented but also upon the style and approach of the presenter him/herself.   We will have the necessary projection and computer systems to facilitate your presentation.  
AT LEAST ONE $1,000 PRIZE WILL BE AWARDED AT THIS SESSION, THANKS TO A GRANT FROM THE ALLEMALL FOUNDATION.
Please e-mail jennifer@conservationfilmfest if you have any questions or would like to reserve your Pitch Panel slot.  
National Conservation Training Center
The ACFF Filmmaker Workshop is held at the U.S Fish and Wildlife Service's National Conservation Training Center, just 60 miles from Washington, DC in Shepherdstown, WV. The 533-acre campus includes instructional facilities, lodging, dining, and a social lounge, as well as outdoor patios and trails for observing local wildlife.