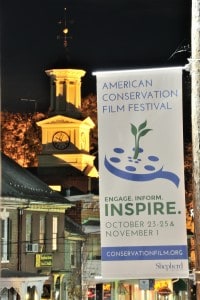 On behalf of the Board and staff of the American Conservation Film Festival, we extend our heartfelt thanks to our community, filmmakers, sponsors, volunteers, participants, cheerleaders, and audience members who laughed, cried, and celebrated with us during the 2015 Festival, October 22 to 25 and November 1.
It was a fantastic festival, with 50 amazing films, record numbers of ticket sales and filmmakers and special guests attending, and an incredibly supportive community of festival-goers, donors, and community members. We are very fortunate to be a part of this community and could not present this event without all of you.
The mission of ACFF is to promote outstanding films and the arts to educate and inspire people to become engaged in conservation.   Through the power of some of the best documentary conservation-themed films in the world and your participation, we achieve this mission. Our minds are expanded, our hearts are touched, and our behaviors are often changed to become more mindful of our impact on the world and each other.
This season, we presented 50 films over five days, welcomed over 30 filmmakers and special guests from around the country, had four standing-room-only film blocks, presented our 4th Conservation Filmmaker Workshop to 27 emerging and seasoned filmmakers, had two great after-parties, gave four awards to the most outstanding films, and welcomed over 500 audience members. By all measures, it was a great success.
There are too many people and organizations to thank by name in this letter, but do know that each and every one – from the ushers to program advertisers to our venues and party hosts to our filmmakers – is critical in bringing this unique and powerful festival experience to our community and audience. Thank you.
http://conservationfilmfest.org/wp-content/uploads/2018/06/ACFF_Web_Logo_2018_3.jpg
0
0
American Conservation Film Festival
http://conservationfilmfest.org/wp-content/uploads/2018/06/ACFF_Web_Logo_2018_3.jpg
American Conservation Film Festival
2015-11-09 21:43:02
2017-12-22 15:56:06
Thank you, EVERYONE, for a Fabulous Festival!