We deeply thank everyone who helped make 2017 such a successful and engaging year for ACFF – our filmmakers, audience members, donors, and community partners.  Please take a look at our accomplishments for 2017, and, with your help, what we hope to do in 2018.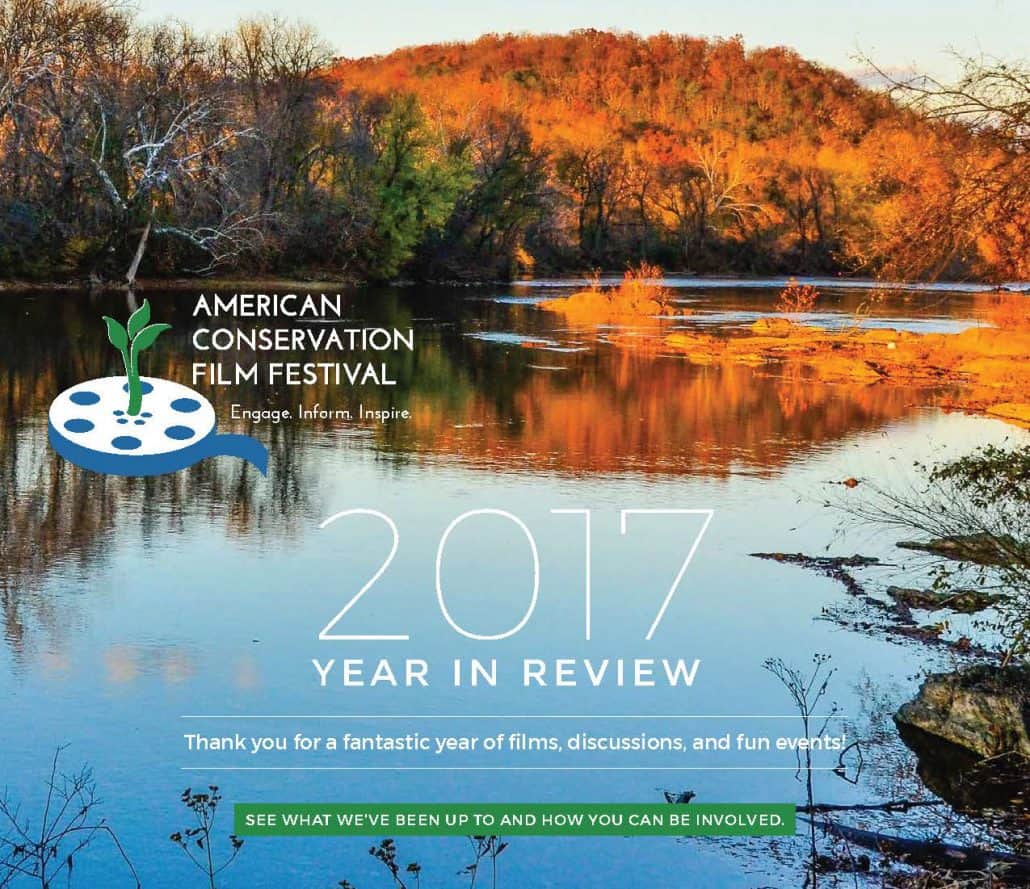 2017 AMERICAN CONSERVATION FILM FESTIVAL YEAR IN REVIEW
The mission of the American Conservation Film Festival is to promote outstanding films and the arts to educate and inspire people to become engaged in conservation issues.
Initiatives
*Provide a venue for diverse conservation films that rarely receive a wide showing; Celebrate conservation film and video in the vibrant atmosphere of historic Shepherdstown, West Virginia;
*Showcase independent, international, student, and regional films;
*Offer an educational component that complements film selections and supports those interested in conservation filmmaking
*Support emerging filmmakers as they are beginning their careers;
*Engage and involve youth in conservation issues.
2017 FESTIVAL HIGHLIGHTS
Selected and screened 46 of the most compelling, diverse, and beautiful films from around the world to present over two weekends of the Festival. Film topics included environmental activism, wildlife preservation, faith and earth stewardship, water quality, climate change and the military, and more.
Welcomed over 20 filmmakers and special guests, including five student filmmakers, to share their films, perspectives, and expertise with audience members.
Presented two films on faith and earth stewardship followed by discussion, free to all audience members, and two films on climate change and the military, free to all members of the military.
Presented the sixth annual Conservation Filmmaker Workshop, a two-day documentary filmmaking workshop, to 28 emerging filmmakers with 12 instructors from Smithsonian Channel, HHMI Tangled Bank Studios, Conservation Media Group, National Geographic, and independent production companies.
Provided financial support toward the travel, lodging, and filmmaker workshop tuition of five aspiring filmmakers from Washington, DC, Florida, and Israel through the Alex Kemnitzer Emerging Filmmaker Fund.
Awarded cash prizes to our eight award winning films: Green Fire Award (for overall excellence); Student Filmmaker Award (with a $500 cash prize from Friends of NCTC); Foreign Film Award; Short Film Award; Green Spark awards highlighting a conservation hero, pathways to sustainability, and inspiring the next generation; and the Audience Choice Award.
Hosted a Festival Kick-off party at Popodicon, the President's house at Shepherd University, to welcome filmmakers, sponsors, and lead donors to the festival, followed by a special free screening and program on From the Ashes at The Frank Center.
Awarded five emerging filmmakers $8,000 in cash gifts, thanks to The Allemall Foundation, to support new film projects proposed during the Conservation Filmmaker Workshop's Pitch Panel session.
Offered a full second weekend of the Festival to present an encore of the eight award winners and three films not screened on the first weekend.
Offered free admission to all students 18 or younger and Shepherd University students, staff, and faculty at all film blocks.
THROUGHOUT THE YEAR
Held a spring fundraiser at Wild Goose Farm in Shepherdstown, featuring the film Ghost in the Making: Rusty-patched Bumble Bee, followed by discussion with three pollination experts: the director of the Endangered Species Coalition, a local pollinator-specific horticulturist, and the former national botanist for the US Forest Service.
Hosted Best of Fest special movie screenings at the Weinberg Center in Frederick, Maryland and Barns of Rose Hill in Berryville, Virginia, with a total of over 350 people in attendance.
Provided semester-long internships to three Shepherd University students majoring in media communications.
Launched the Next Gen Capture Conservation Contest to engage and encourage students 18 and under to create and submit their own short videos about their relationship to nature and the environment.
Partnered with the Environmental Film Festival of the Nation's Capital to co-present films at our respective film festivals (Last of the Longnecks at DCEFF in March, Kokota: The Islet of Hope at ACFF in October). Served as moderator for post-film discussion of world premier of Last of the Longnecks at DCEFF at Carnegie Institution of Science.
Partnered with the Shepherdstown Film Society for a special film screening of The True Cost and a preview of 2017 festival films.
Established the ACFF Conservationist Fund in honor of ACFF's 15th Anniversary to create an ongoing financial support system made up of ACFF donors who have pledged $1,000 or more.
2017 FINANCIAL SNAPSHOT
Expenses
Programming – 63%
Fundraising – 20%
General Admin – 17%
Income
Grants – 49%
Sponsors – 25%
Individuals – 16%
Program – 10%
TESTIMONIALS FROM FILMMAKERS, PARTNERS, & AUDIENCE MEMBERS
"Because of the workshop, I feel plugged into a community of talented, kind, supportive, inspiring filmmakers and people working in conservation media that before felt so distant and separate from my work." ~Conservation Filmmaker Workshop participant
"Diverse and inspiring selection of films with excellent speakers." ~ Festival audience member
"Your event always has so many special touches… I love the mixture of young and old as we all join together in your tireless efforts." ~Spring Fundraiser attendee
"I loved "SEED: The Untold Story" and was so appreciative to have the opportunity to see it in Berryville! It makes me want to start my own personal seed bank!" ~Best of Fest attendee
"It was a high honor for me to have a role in this beautiful and important festival." ~Festival guest speaker
"The speakers and discussions were thoughtful and continue to inspire us in the ways we can be better citizens of the planet. This inspiration is what keeps me involved and returning to ACFF. Your hard work paid off in spades as this was the best ACFF I have attended. " ~ Festival audience member, donor, and volunteer
GOING FORWARD
ACFF is in a dynamic, evolving time as we continuously aspire to have a profound and positive impact on our community and the planet, engage people of all ages and backgrounds in a myriad of conservation issues, and empower and support filmmakers in making films that make a difference.
With the support of individuals, businesses, foundations, and community partners, we can:
Grow programs that introduce students to conservation issues, science, media, and filmmaking.
Recruit partners in the environmental, science, and media fields to help teach, promote, and execute these educational programs.
Provide access to select ACFF films to schools, community groups, and organizations and greater exposure for filmmakers and the critical issues they explore through their films.
Continue to present the most important, contemporary conservation films to diverse audiences throughout the region.
Provide resources that facilitate further understanding and exploration, opportunities to convert inspiration into action, and connections to the causes and organizations that will help people make a positive difference.
———————-
There has never been a more critical time to support organizations doing work to protect our environment, further scientific study, and raise awareness on conservation issues.
We hope you recognize the important role ACFF plays in this picture and will support us with your donation of any amount.
All donations made since the festival will be matched dollar for dollar, up to $5,000, thanks to a generous challenge match from one of our Conservationist Fund members.
Board & Staff
Jeff Feldman, President
Jeff Groff, Vice-President
Jeffrey Gustafson, Secretary
Mark Burgess, Treasurer
Elise Baach
Janna Bond
Michael Hobert
Bill McShea
Vanessa Serrao
Nicholas Snow
Jennifer Lee, Development & Communications Director
Hilary Lo, Festival Manager
Interns – Blair Cherelstein, Maggie Cohee Nevin, Anna Perkins
We are very grateful for the generous support of so many sponsors, grantors, community partners, and individual donors who make what we do possible. Thanks to the following sponsors of the 2017 Festival.
Aldo Leopold
The Campbell Foundation
HHMI Tangled Bank Studios
The Allemall Foundation
Nora Roberts Foundation
Shepherd University
Rachel Carson
Tito's Handmade Vodka
John Muir
Schutte-Box & Yenser Wealth Management Group of Wells Fargo Advisors
Jane Goodall
Flying Dog Brewery
Route 11 Potato Chips
Jacques Cousteau
Hobert & Kerr, P.C.
Friends of the National Conservation Training Center
Jefferson County Convention & Visitors Bureau
Redfin
Sustainable Solutions, LLC
Winchester Gastroenterology Associates
Media Sponsor – Spirit of Jefferson newspaper
Sponsor levels of giving:
Aldo Leopold $5,000+, Rachel Carson $2500+, Jane Goodall $1000+, Jacques Cousteau $500+
Conservationist Fund Members ($1,000+)
John C. Allen, Jr.
Randy Barber & Melissa Moye
Neal & Alice Barkus
Keith Berkeley
Frances Brolle
Jim Campbell & Nancy Hooff
Lawrence K. Dean & Mina Goodrich
Jeff Feldman & Kristin Alexander
Mary Jane Lee
Nicholas Snow & Cathleen McCoy
Michael & Nancy Spensley
Barbara Spicher & Martin Burke
Hank Willard
https://conservationfilmfest.org/wp-content/uploads/2017/12/ACFF-YiR-front-page.jpg
1101
1275
American Conservation Film Festival
https://conservationfilmfest.org/wp-content/uploads/2020/06/ACFF_logo.png
American Conservation Film Festival
2017-12-11 16:54:51
2018-05-08 17:39:58
2017 Year in Review