17th Annual American Conservation Film Festival Announces 2019 Schedule: 39 Exceptional Films Featuring Wildlife, Agriculture, Climate Change, Conservation Heroes and Programs to Entertain and Inspire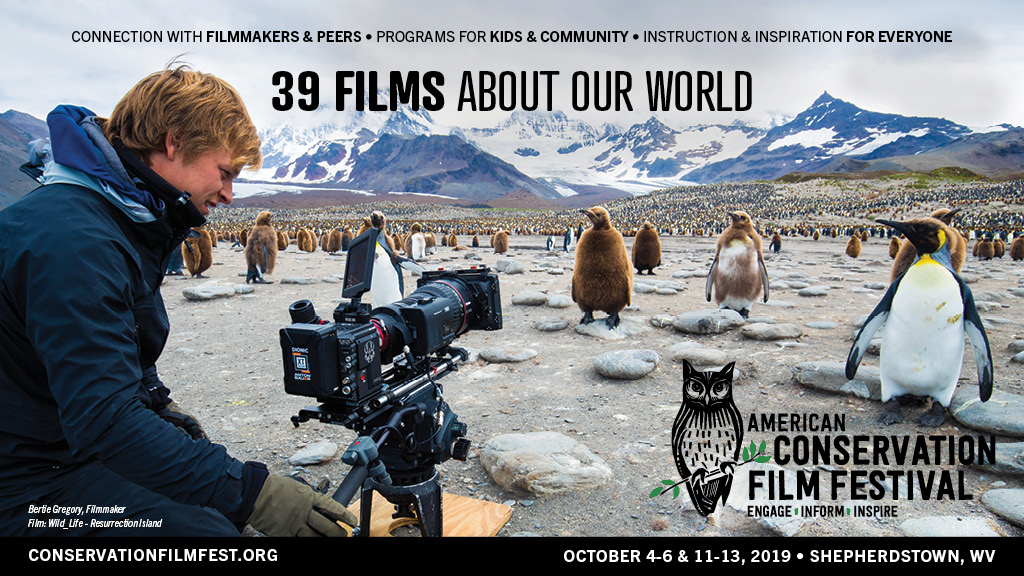 FOR IMMEDIATE RELEASE
SHEPHERDSTOWN, WV (August 17, 2019) The 17th annual American Conservation Film Festival opens Friday afternoon, October 4th, with a free film screening and culminates with its Encore Award Winners Weekend October 11-13. The festival brings together the finest conservation films and filmmakers from around the world and features discussions with scientists and educators, professional workshops, family programming, and social events – all with the mission of engaging, informing, and inspiring its audience through the power of film.
The festival's most prestigious honor, The Green Fire Award, goes to filmmaker Josh Murphy, whose film Artifishal explores wild salmon's slide toward extinction, threats posed by fish hatcheries and fish farms, and our continued loss of faith in nature to repair itself. A total of eight awards are given in six categories, recognizing the most skillfully produced, enlightening, and compelling films on a range of important issues.
"With nearly 300 film submissions from 44 countries this year, it is truly a challenge to choose less than 15% for the festival. Our selection teams work for six months reviewing and rating films to choose the very best to share with our audience. This year's line-up offers a diversity of topics, inspiration, calls to action, and yes, even plenty of humor!" says Jennifer Lee, ACFF's Executive Director.
In addition to the 39 films, festival-goers will have opportunities to participate in a vegetarian food tasting, hear from filmmakers and film subjects, learn about ways to maintain hope for the environment and take action, discover the wonder of mushrooms, and bring the kids to family films and programs. Attendees are also encouraged to explore Shepherdstown, where a nature-centered yoga class, eco-themed art show, and environmentally-focused book display are all taking place on festival weekends at local businesses. A plethora of dining, shopping, and recreational options also await attendees.
"Following the first Conservation Film Festival I attended, I walked away with energy and emotion not expected. There was a wealth of awareness bringing worry, love, hope, and a mission to be a better citizen of the earth," said audience member and donor Peggy Duvall. "I am impressed, too, how the Festival reaches into surrounding communities year-round to bring films to audiences who would not otherwise be exposed."
The festival's trailer, along with trailers for all 39 festival films, can be found on the ACFF website https://conservationfilmfest.org
The 8th Annual Conservation Filmmaker Workshop runs concurrently with the festival, and will take place on October 4 & 5, providing two days of hands-on workshops and expert seminars on the craft of conservation filmmaking. Addressing an array of topics, premier filmmakers and experts provide helpful insights for filmmakers and media producers of all ages, backgrounds, and skill levels.
"As a recent college graduate with a lot to learn, I was filled with inspiration and a vast amount of insight into what my future career could look like," said 2018 Student Film Award winner and workshop participant Eddie Mostert. "I felt that the presentations from industry professionals were very helpful, especially for someone as young as myself."
Saturday, October 5th, spend an evening at Shepherdstown's Sustainable Solutions with legendary Washington, DC DJ Cerphe Colwell, "The Greenest DJ in America." Enjoy drinks, snacks, and music as Cerphe plays his Green Playlist and signs copies of his new book, Cerphe's Up. Cerphe will also share about his and his musician friends' work for environmental protection. Tickets for this event are $30 and available through the ACFF website at http://bit.ly/eveningwithcerphe
The Festival Encore Weekend will be held October 11-13, 2019 at the Frank Center at Shepherd University, offering a second chance to see all of the seven award-winning films, plus the Audience Choice Award for favorite festival film.
Leading up to this year's festival, the American Conservation Film Festival is thrilled to present two Best of Fest events, which will showcase some of ACFF's best and favorite films from past festivals.
The 4th Best of Fest at the Barns of Rose Hill will be held September 12 from 6 to 9 pm, and will feature two beautiful films about birds, as well as a presentation by wildlife veterinarian and bird caretaker extraordinaire, Dr. Belinda Burwell, owner and operator of Wildlife Vet Care in Millwood, Virginia. Tickets for this event are $8 in advance and $10 at the door. For more information and to purchase tickets, visit http://bit.ly/2019bestoffestRH
On Thursday, September 19 from 5 to 8:30 pm, ACFF will hold its first Best of Fest event with Shenandoah University in Winchester, VA. This free event will feature five of ACFF's award-winning and favorite films from the past two festivals and an intermission reception. Information on this event, including the film lineup, can be found on the ACFF website at http://bit.ly/SUbestoffest
September 1 marks the deadline for ACFF's Next Gen Capture Conservation Contest, inviting young people ages 5-18 to get outside and create short video, showing what nature means to them in four (4) minutes or less. The contest was created to encourage youth to explore conservation issues and the environment and connect it with a personal video message that captures that relationship. More information, additional guidelines, and filmmaking tips and examples can be found at: http://bit.ly/nextgen-acff
Full festival passes, allowing entrance to all films over both both festival weekends are $55; first weekend passes are $40; second weekend passes are $25. Tickets to individual film blocks are also available. Students 18 & younger are admitted free to all films as space allows. Purchase tickets by September 15th and save 10%.
Film descriptions, film trailers, schedule, and ticket information can be found on the ACFF website: https://conservationfilmfest.org
For Festival updates, follow ACFF on Facebook (@conservationfilmfest), Instagram (@conservationfilmfest), and Twitter (@ConservationFF).
The American Conservation Film Festival is an annual event held in Shepherdstown, WV, a vibrant arts community 70 miles west of Washington, DC and Baltimore, MD. ACFF features films from a diverse group of conservation filmmakers from all around the world. This 501(c)(3) non-profit organization addresses conservation through the lens of film, providing a platform for education and dialogue about more sustainable ways to live.
ACFF promotes the best of conservation filmmaking from around the world. The Conservation Filmmaker Workshop leverages the convergence of great films, talented filmmakers, and film industry leaders to offer a filmmaking workshop experience found nowhere else.
ACFF programming promotes solutions to pressing conservation issues, respect for the world's natural and cultural heritage, and passion for conserving our resources. Since 2003, the Festival has screened over 600 films to over 10,000 audience members, presented filmmaking workshops for aspiring documentary filmmakers, hosted panel discussions with filmmakers, and offered free family programs with the mission of engaging, informing, and inspiring people toward better ways to live, work, and play.
The 2019 American Conservation Film Festival is supported by the following generous sponsors: HHMI Tangled Bank Studios; The Campbell Foundation; The Nora Roberts Foundation; Oak Spring Garden Foundation; Shepherd University; Shepherdstown Art Glass & Jewelry; Music Planet Radio; Route 11 Chips; Tito's Vodka; Friends of NCTC; Harrison & Johnston, PLC; Jefferson Arts Council; River's Edge Landscapes; Winchester Gastroenterology Associates; Jefferson County Convention & Visitors Bureau; Flying Dog Brewery, Bistro 112, The Hive House Apiaries, Skinner Law Firm, and the Clarion Hotel.
CONTACT:    Jennifer Lee, ACFF Executive Director
PHONE:         540-539-6150
EMAIL:          jennifer@conservationfilmfest.org
https://conservationfilmfest.org/wp-content/uploads/2019/08/WildlifeResurrection_Web.jpg
375
600
American Conservation Film Festival
https://conservationfilmfest.org/wp-content/uploads/2020/06/ACFF_logo.png
American Conservation Film Festival
2019-08-17 12:41:38
2019-08-21 12:58:08
17th Annual American Conservation Film Festival Announces 2019 Schedule: 39 Exceptional Films Featuring Wildlife, Agriculture, Climate Change, Conservation Heroes and Programs to Entertain and Inspire