At a time of uncertainty, ACFF uses film to inspire change for the better.
In this time of a global pandemic and movement towards racial justice, ACFF is working harder than ever to amplify diverse voices through engaging, inspiring, and informative conservation-focused films — we believe that powerful storytelling has never been as important as it is right now.
Throughout its history, ACFF has supported filmmakers in converting scientific data into compelling stories that move people to make positive societal shifts. In the past 17 years, ACFF has presented more than 600 films, interacted with over 10,000 festival participants, supported over 25 student filmmakers, and facilitated instruction for over 200 emerging and seasoned filmmakers.
"ACFF's commitment to environmental storytelling and its genuine support of those working to bring these stories to light is second to none, and it is a privilege to be part of the ACFF community," says Kelly Nyks, filmmaker of ACFF's 2017 Green Fire Award-winning film, Disobedience.
Our festival has been traditionally held in the fall of each year but through sheer serendipity, we made the decision in December 2019 to shift the Festival to spring starting in 2021. This extra time is allowing us to plan for and adapt to what a post-COVID Festival can look like and to pursue new opportunities for showing our films to a wider audience.
In 2020, we had planned 12 special screening events around the WV-MD-VA region. We have now postponed many of these events while converting some events to online platforms. Streaming has also allowed us to partner with filmmakers and film distributors in premiering exciting new releases such as Fantastic Fungi and Spaceship Earth.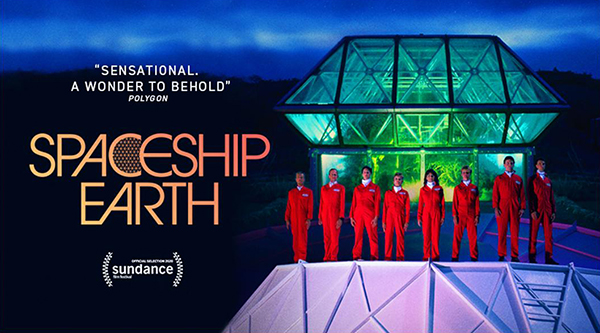 We are still encouraging youth ages 5 to 18 to create a film of their own about what the environment and nature means to them for our Next Generation Capture Conservation Contest. This contest is a fun, safe way for kids to use down time for creativity, exploration, and advocacy! We are accepting submissions until September 1.
A positive trend that we are seeing is an uptick in film submissions for the 2021 Festival — so far, a 31% increase over 2019. Student films can be submitted for free and all submission guidelines can be found here.
Hilary Lo, our Festival Manager says, "From Chile to Mozambique to Texas, outstanding entries are coming in from all over the world! And all of these films were finished in the last two years so they offer fresh perspectives from experts in the field. It's going to be a challenge for the selection committee to narrow it down."
For the 2021 Festival, it is our current plan to show films at Shepherd University on March 24 & 25 and then spend the weekend of the Festival on the campus of the National Conservation Training Center (NCTC). NCTC is also the host of our annual Conservation Filmmaker Workshop that will be held on March 26 -27.
Our Executive Director Jennifer Lee is enthusiastic about the 2021 Festival, saying "We so look forward to gathering with our filmmakers, audience members, and community next Spring for what we hope to be our most engaging and festive festival yet! We are also preparing for the challenges presented by the Covid-19 virus, by finding creative and accessible ways to engage and grow our ACFF community through online offerings for the festival and throughout the year."
As is true for many non-profit organizations right now, we are looking for more funding and partnership opportunities with like-minded people and businesses that want to share in our mission. It is without question that stories and actions that illuminate the challenges and solutions for the welfare of the earth and all its inhabitants are more important than ever before.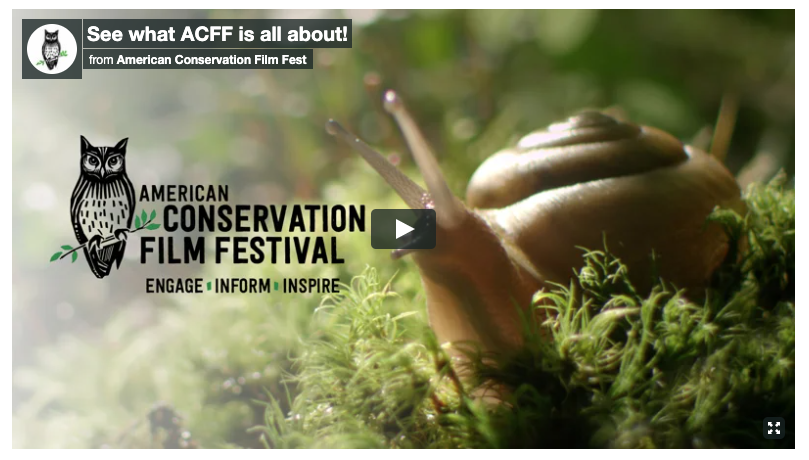 For questions or more information, contact:
Jen Rolston, Communication Liaison
304-728-2508
jen@conservationfilmfest.org
Be sure to check us out on social media:
Facebook • Twitter • Instagram
https://conservationfilmfest.org/wp-content/uploads/2019/07/DSC00099.jpg
2249
1500
American Conservation Film Festival
https://conservationfilmfest.org/wp-content/uploads/2020/06/ACFF_logo.png
American Conservation Film Festival
2020-06-25 13:13:23
2020-06-25 14:16:21
At a time of uncertainty, ACFF uses film to inspire change for the better.